Street Legal Tint
Are you after the darkest street legal tint?
Keep cool and look cool with Tint a Car's Octane – it's the darkest legal window tint in New Zealand. Octane will provide your car with maximum glare, heat and UV protection. Not to mention the ultimate in looks and privacy- you can unleash your dark side. Plus with a lifetime national warranty, you can relax knowing your tint will stay looking cool while keeping you cool.
Protect your car from harmful UV rays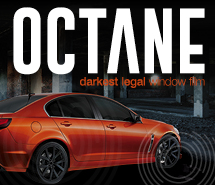 The harmful rays of the sun will penetrate through the windows and fade your car's interior upholstery, but there is a solution to prevent damage and that can keep it looking good. A car window tint will block out those harmful rays and keep your upholstery looking as good as the first day that it came off the showroom floor. Not to mention the ultimate in looks and privacy, with an added touch of personality.
Tint a Car has been in the tinting business for over 50 years, they have the knowledge and experience to make them New Zealand's biggest tinting network.
Lifetime Nationwide Warranty
And with a wide selection of tinting products, for whatever look you're after, you can relax knowing your tint comes with a real Lifetime Nationwide Warranty. So whether you're a motoring enthusiast trying protect your pride and joy, or just trying to stay cool- trust the experts.
Contact us today
So if you want quality products and knowledgeable staff, feel confident in giving Tint a Car a call or find your local store.